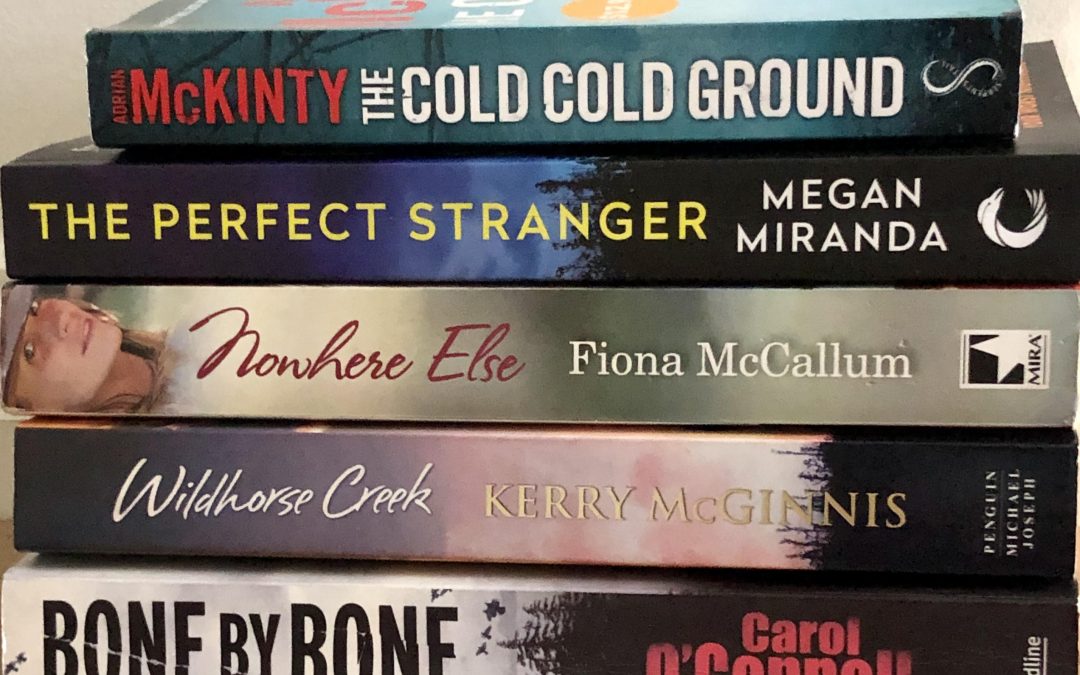 We have a book exchange in the basement of my apartment building I live in – a table where residents drop off their pre loved books.  The collection turns over regularly but the stalwarts are Australian fiction, biographies, crime thrillers and then, on occasion, something more titillating. I decided this month that rather than pick and choose I would read the next five books that appeared on the table regardless of the genre.  Here is my feedback.

Bone by Bone : Carole O'Connell
In a small town in California two boys go into the woods; only one comes back. Twenty years later Oren returns home to find his brother is being returned to his family home – bone by bone.
This is a small town crime thriller that hit the mark; great characters, interesting twists and a well written story that had me early on.

Wildhorse Creek : Kerry McGinnis
Billy Martin ran away from home as a teenager and has buried his past. He now works in Queensland's Gulf Country on the cattle runs. Billy finds friends, love and a life at the whim of the outback weather.
I would classify this as a rural romance. Kerry draws on the harshness of the Australian weather and the effect it has on life and survival in the outback to give meaning to the choices the characters make.

The Perfect Stranger : Megan Miranda
Failed journalist Leah Stevens needs to leave Boston and when she runs into her old friend Emmy she jumps at the chance to move to rural Pennsylvania. When two people are murdered and Emmy disappears Leah finds out she didn't really know Emmy at all. Is Emmy in trouble or is she the one causing it?
I sat down one afternoon and read the book start to finish. A great read, solid characters and lots of twists.

Nowhere Else : Fiona McCallum
Current affairs reporter Nicola Harvey seems to have it all but appearances can be deceiving. Nicola is sent to Australian outback town Nowhere Else to cover the drought and as she digs into the town's history she discovers that this place may hold the key to her own past.
This novel has a strong base in the outback, the descriptions are vivid but sometimes a bit over drawn which slowed the story down. I enjoyed this but for me the twist was given away very early so the end held no surprises – but as this was a story of family, love and self discovery perhaps that's okay.

The Cold Cold Ground : Adrian McKinty
Two people dead. Two unrelated cases. Detective Sergeant Sean Duffy doesn't think so but he seems to be alone in his belief. Set in Northern Ireland in the 1980's amidst riots, hunger strikes and politically motivated murders, this novel is dark and menacing.
I visited Belfast twice in the 1980's – the first time I was turned away by the army as the city was closed due to rioting. Two days later I was visiting family there and they gave me a list of safe places to go, areas to avoid and precautions to take. I didn't stay long. This novel draws heavily on the time and place to add another dimension to a great crime novel.